The Triumphs and Failures I Have Had on the Bike
October 11th, 2012
by gretchen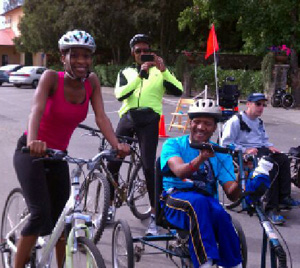 When I was a toddler, I rode my bright red tricycle up and down the streets of my Pleasant Hill neighborhood. It had a seat belt, straps on the pedals to secure my feet, and a back support, because I have cerebral palsy and my center of balance is not that great.
After I outgrew my red trike, my parents bought me an even bigger blue adaptive tricycle made specifically for people with physical challenges. A larger version of my original red trike, I rode that thing everywhere — around the trail in our backyard, on our street, and in local parks. I had a difficult time riding my trike up my street's giant hill because it required more leg strength than I had at that time, so I'd ask whomever was riding with me to push me up the hill, then hold on as I rode down so I wouldn't lose control.
My first real bike, which I got when I was eleven and had training wheels, was cool because I was finally able to ride like the other kids my age. I could cruise the neighborhood with my sisters and cousins, but I soon discovered a small problem. This new bike, even with the training wheels and seat belt, made me feel unstable. I became cautious going over bumps and around curves so the bike wouldn't tip over. I fell a couple of times, even though I took extra care while riding, and it was a good thing I wore my helmet because it padded my fall. A helpful adaptive feature of that bike, besides the training wheels and seat belt, were the pedal brakes, which were easier to operate then regular hand brakes. This feature definitely came in handy going downhill.
I hadn't ridden a bike since my college days and missed it, until I discovered the Bay Area Outreach and Recreation Program's (BORP's) bike shop in the Berkeley Marina, where you can rent adaptive bikes. BORP is dedicated to helping people with physical challenges participate in adaptive sports. Their cycling program is open to people of all ages and their shop carries a wide variety of adaptive bikes from which to choose. The yearly adult fee for the program is $100 and it will give you unlimited access to bikes during the bike shop's office hours. When I rent, I usually ride a low to the ground recumbent trike. Some people may need a few lessons before getting started, but since I have been cycling so long, all I had to do was get on and start pedaling. On sunny days, once I'm strapped in and put on my helmet, I take off around the marina.
Renting is a good option because bikes like the recumbent trike that I ride cost about $1,500 (You can find them at Mansion Athletics.). For those of you who have not ridden a bike before, I encourage you to check out the BORP Adaptive Cycling Program (You can email cycling@borp.org or call (510) 848-2930 for more information.). You can also purchase an adaptive bike locally at Baytrail Trikes in Albany, CA. If you contact Steve at steve@baytrailtrikes.com or (510) 292-6457, you can schedule an appointment to try out one of their bikes before purchasing. So … go ride a bike!
That is my view of the Bay.