May 16th, 2013
by Lateef McLeod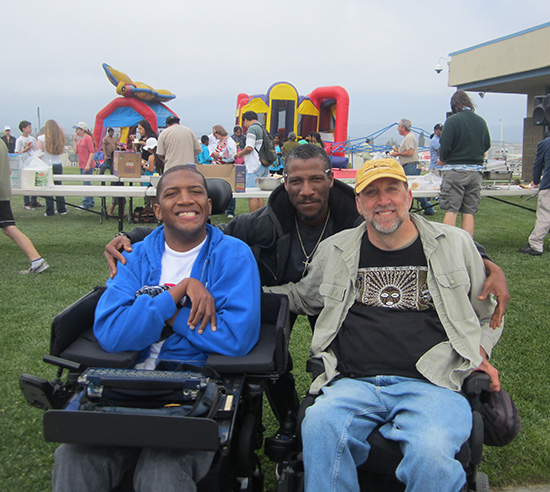 I told you about a wonderful event designed to get young people with disabilities thinking about moving beyond typical career options last week. Well last Saturday, I made the trek down towards Santa Cruz for A Day in the Sky. The long drive to Watsonville was definitely worth the trip to attend this amazing event.
A Day in the Sky introduces young people with disabilities to the fields of aviation and science and gives them the chance to network with many organizations working in those areas. The event hosts a wide range of vendors and organizations who provide science, aviatrix, and other opportunities for people with disabilities. I spent the day talking with the vendors, checking out planes, and enjoying the delicious barbecue lunch provided by the event's sponsor Shared Adventures. The sights and sounds of the day put a smile on my face, and I learned a lot about how we can get involved in aviation and the sciences. This aviation festival engages the whole family and has things for everyone to do and enjoy.
Shared Adventures provides outdoor recreation programs for people with disabilities, and for this event, they collaborated with Challenge Air, which is a Dallas based organization that takes children with disabilities on plane rides.
I interviewed Shared Adventures' president Foster Anderson about the A Day in the Sky event, and the success it's realized in the last nine years. He told me that, "The event gives kids the opportunity to network with many of the event's vendors that have educational literature, hands on technology displays, and interactive products that are provided free of charge to the participants. By providing these activities, it broadens their minds to think beyond the boundaries of a classroom education and provides them with skills that will give them tools to use in the future."
Foster showed me around the grounds and introduced me to some of the vendors. Two that I really liked are the Inde Travel Agency and Mobility for Discovery. The first company, which was founded by Lillian Adkins, a disabled woman, assists people with disabilities in planning accessible trips all over the United States. Inde Travel's motto is, "Because Everyone Deserves a Vacation," which is so true. The other business that is worth checking out is Mobility for Discovery. Founded by Rick Escobar, this small business, "Encourages children with disabilities to experience upright, self-initiated mobility, to explore and access their environment through the use of adaptive mobility equipment." I encourage everyone to check out these two companies.
If you didn't make it this year, you must add A Day in the Sky to your spring festival plans next year. Check the website for information.
That is my view of the Bay.